Apartment Buildings
Garfield Arms Apartments (San Luis Obispo)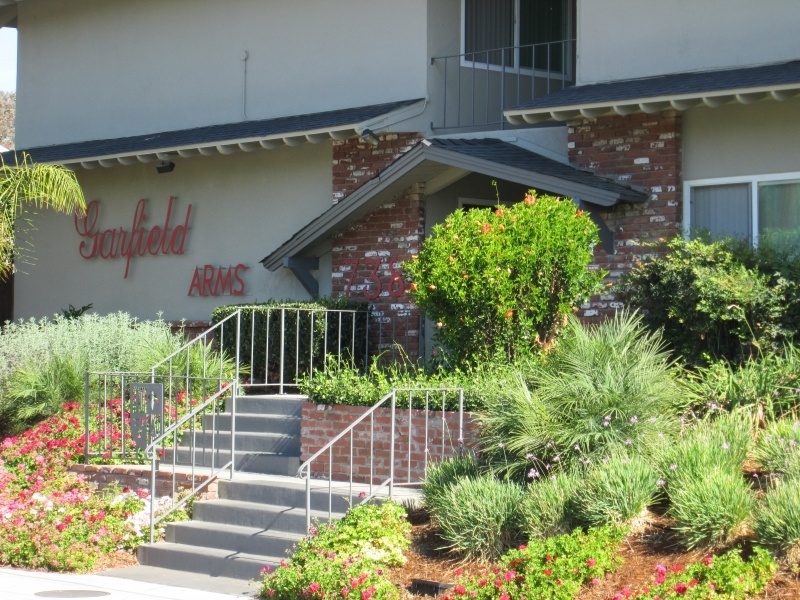 « Back to Apartments
PRE-LEASING NOW
Location
Garfield Arms Apartments is ideally located for Cal Poly University students. The apartments are situated within 16 minutes walking distance from the front entrance of Cal Poly University. Click here to see a Google Map.
College Atmosphere
Because of its location, the tenants at Garfield Arms Apartments are mostly freshman and sophomore Cal Poly students. This lends itself to creating a great college atmosphere.
Swimming Pool, Free Parking, & More
Amenities include a heated swimming pool, free on-site parking (1st come,1st serve basis), 2 large laundry rooms, optional furnished apartments.
Garfield Arms has 1 and 2 bedroom apartments, and 2 options for the 2 bedroom units:standard size and large size. The standard 2 bedroom units can fit up to 3 tenants and the large 2 bedroom units, up to 4 tenants.
Schedule a tour!
During pre-lease season, the On-site Office hours for the Pre-Lease season are 8am-11:30pm, 1:30pm -5pm, Monday-Friday, 10am-2pm on Saturdays.
To schedule a tour around the building and to view the apartments, call the On-Site Manager, Steve 805-543-7835. Tour for the Pre-Lease Season of 2021/2022 will start in February/2021.
Rates
We have 1 bed and 2 bed apartments, furnished and unfurnished.
Furnished units come with box spring and mattress, mattress cover, 1 nightstand and 1 dresser per bedroom, 1 sofa, 1 dining table w/ 4 chairs, 1 floor lamp for living room.
APPLICATION: Before you apply, you must see a unit from the inside with the On-site Manager. After you view a unit that works for you, you may turn in your 1) application form, 2) co-signer form, and 3) $20 application fee per applicant and $20 per co-signer at the California West Office at 1380 Broad St., San Luis Obispo - CA 93401. The co-signer form must be filled out and signed by the co-signer. The same form can be faxed or e-mailed to our office. Every person over the age of 18 who intends to occupy the unit must complete all of these steps. Once you are approved, we will ask you to bring the security deposit to our office within the next 48 hours. The security deposit must be paid in the form of cashier's check or money order. If you have any further questions, call us at 805-543-9119.
RATES:
Studio: not available
1 bed (up to 2 tenants): $1350 + $1400 Security Deposit
1 bed Large (up to 2 tenants): $1395 + $1445 Security Deposit
2 bed (up to 3 tenants): $1695 + $1745 Securitiy Deposit
2 bedrooms Large (up to 4 tenants): $1895/month + $1954 Security Deposit
$45/month per tenant for water, sewer, trash and internet.
Limited furnished units: extra $150/month
To view the current listings, please sue the link bellow: